Old School Flint Needs Your Help!!
Help me identify the faces with missing names on this site. In the 1980's I DJ'd most of the clubs in Flint and took pictures of the customers. I recently found a ton of negatives and scanned them to put up this site. Enjoy the memories and let's try to name everybody on here!
Jeff Lamb
Here's how this site works:
First, sign up to the site so you can post names to the pictures.
When you see someone you know, click on the picture.
Below that picture will be a comment box.
Type the name of that person in the box and submit.
Rinse, lather, repeat!
This could be a fun project for all of us!  The pictures are free for the taking.  If you see one you want, Click it, then above the picture, is says"Full Size."  Click the number next to Full Size and  right click and "save image as"… It's that easy!
If you have any pictures from any bar in Flint in the 80's and want to post them here.  Email them to me at jeff@oldschoolflint.com!  I'll be glad to post them!
Jeff Lamb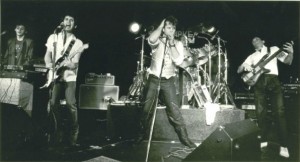 Nick Garvey Band at Wild Bill's

Jim Zembo was Flint's Piano Man.  He played and sang at Billy's Pub in downtown Flint, Bogarts in the Hyatt, Aladdin's and all over.  To this day, he's the best I ever heard.  And not just because he's my cousin!

Who doesn't remember Rosie?  She sang "Won't You Come Home, Bill Bailey" at every bar in town.  She always needed a ride home too.  Bless her heart, she was a fixture in Flint night life.

One of the things that was totally unique to Flint and Flint alone was the Citizen's Bank weather ball.  You could see it for miles.  Put up in 1956, way before Cable TV and the internet, this was the way a lot of us knew what the weather was going to be.   But only if you knew the poem:
When the weather ball is red, higher temperatures ahead.
When the weather ball is blue, lower temperatures are due.
Yellow light in weather ball means they'll be no change at all.
When colors blink in agitation, there's going to be precipitation.